Next Event: April 10 - 12, 2024
(This event has sold out 17 times in a row!)
Learn proven
marketing

and

sales strategies

compiled from over

113,199

small businesses.

Direct Mail • Social Media • Google Advertising • Online Reviews • Email Marketing
Why do some businesses
grow exponentially

while others stay small and struggle to make ends meet?
Learn enough about marketing to effectively manage outsourced marketing vendors or staff to get you the results your business needs without wasting marketing dollars.
Marketing content that's easy to understand for business owners
You won't hear marketing lingo and content that goes over your head here. Just real, useable marketing techniques that you can implement right away into your small business.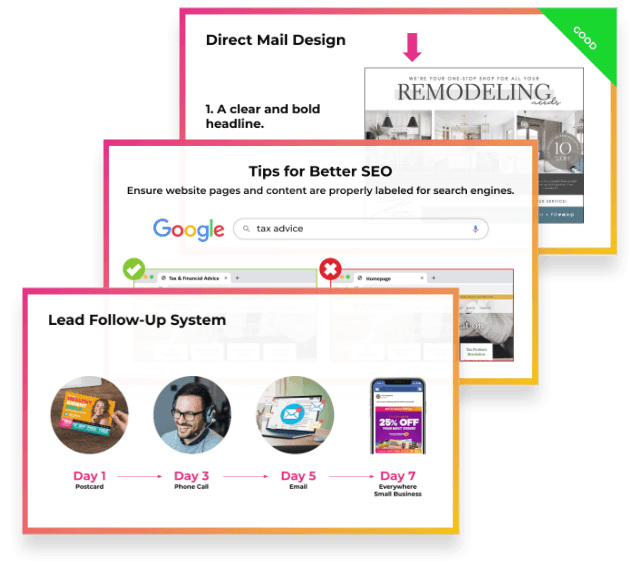 Meet like-minded small business owners
There's nothing more valuable than knowing the right people. Meet other small business owners from all over the country and learn what is actually working for them when it comes to marketing and business expansion.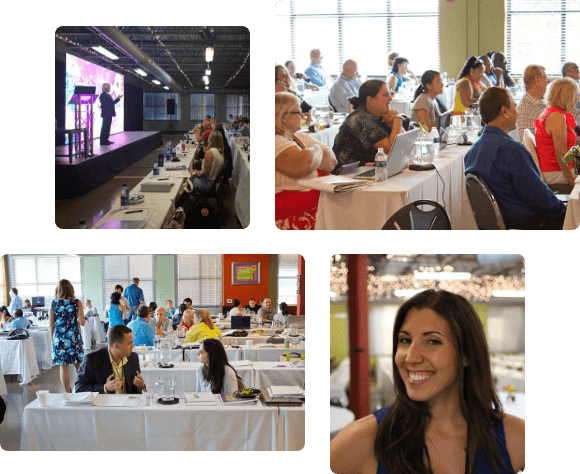 Enjoy yourself in sunny Clearwater, Florida
We won't hold it against you if you take a quick beach dip before the provided full breakfast at the event. Organic eggs taste better with a little salt water on your lips! Stay an extra day and check out the Clearwater Marine Aquarium.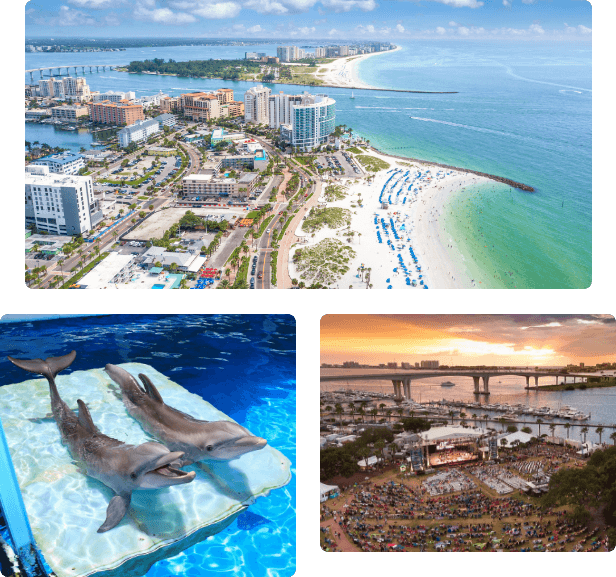 Joy Gendusa
Founder/CEO PostcardMania
Joy is an entrepreneur, business owner, author and established speaker and philanthropist. She is currently the Founder and CEO of PostcardMania, a 330+ employee marketing firm in Clearwater, Florida, which started as a direct mail postcard marketing company and now offers a full suite of marketing services including online ads, social media, website development and more.
PostcardMania has 113,199 clients nationwide and specializes in creating marketing campaigns based on what has already been proven to work for other businesses. Joy has been awarded the Tampa Bay CEO of the Year, Business Woman of the Year in Tampa Bay, featured on MSNBC's "Your Business" and has twice been an Ernst & Young Entrepreneur of the Year finalist.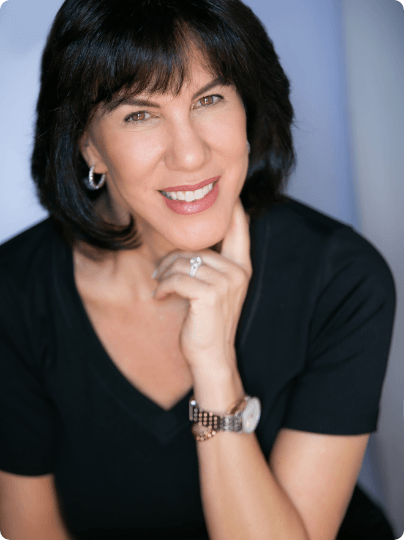 Who

is the Growth Summit for?
Business owners who are currently doing marketing and want to learn how to market smarter, or those who are getting ready to start marketing for the first time.
Attendee Reviews
Hear what people are saying about attending the Growth Summit
"I've been trying to market for so many years – I've been in business for 27 years. I now have a much better understanding of what marketing works and am confident I won't waste marketing money. I would definitely recommend other business owners to attend."

Tower Dental Arts
"Awesome tools were shared today that will really help with the consistent growth & expansion we are seeking."

Nurture Health Center
"Throughout the day we sat with different experts and specialists and really vented about our issues in our market. Luckily, the turn out was/is great and the group really helped each other out with our specific problems."

Foundation Builders, LLC
$1,000, right?
Just
$397

for PostcardMania Clients
Your ticket includes two cocktail parties, breakfasts and lunches and the full conference including break out sessions where you can get personalized help from the experts.
Countdown Calendar
Register now! Registration is limited to 75 attendees.